A lot of content created during the pandemic period by teachers (and other pro users who have to deal with documents on a daily basis) is required to have very high standards. PDF is easily the top-level file format that is widely accepted and used due to its specific advantages: it is a portable format that looks identical on the screen of each device that reads this format. While there are plenty of viewers for the PDF format, when it comes to quality content production, there are a few software solutions that provide typical options. The PDF-XChange PRO package suite not only offers PDF editing options but also offers a plethora of high-quality PDF content creation and handling options that no other app in this category offers for a very simple reason – it has a lot of extra features that are unique to this software suite, which is why you can't find any real competition for it.

PDF-XChange PRO can be a game-changer in the lives of many educational-content and professional content creators with the brilliant (and most likely unique in the PDF software world) feature of "sessions". The "Sessions" feature is a major time-saver for pro users handling multiple PDF files at the same time, every single day, combined with the rest of the features like annotation tools, Enhanced OCR, and the extensive list of PDF export formats (all three document types – Microsoft Word, Microsoft Excel, and Microsoft PowerPoint and 14 image file formats) makes PDF-XChange PRO a trendsetter in the list of PDF software apps. And that makes it even better than the Adobe Acrobat Pro (and Adobe Reader), the application that Adobe used to start the story of the PDF format in 1993. The attention to detail combined with the professional-grade level features for PDF processing makes PDF-XChange PRO a Swiss-Army knife of PDF production, processing, and editing.
E-content creators, like teachers, bank clerks, secretaries, media enthusiasts (or any type of office worker) are the typical customers who would be primarily using this kind of software. We shall point out in this review the features that are most likely to attract the type of userbase mentioned above and we encourage you to explore the rest. The PDF-XChange PRO suite (version 8.0.343.0 in our review here) includes PDF-XChange Editor Plus (that comes with the Enhanced OCR plugin) – the main app for viewing and handling PDFs, PDF Tools – for batch processing of multiple PDF files, Office2PDF – a batch conversion utility for Microsoft Office apps and there is also an Addin for Word, Excel, and PowerPoint (so that you can create PDFs directly from these apps) and then there is the PDF-XChange Standard PDF Printer – the PDF creation module in the suite.
The application offers a few types of user interfaces so that you can have the typical toolset of your choice: a "hands-on" approach – the Classic Toolbars, a Ribbon UI with all the tools organized neatly into categories, and a Touch-Optimized user interface – just in case you plan to use the software on a device with a touch screen. There is a switcher between Mouse and Touch-optimized user interface. It is a matter of taste or need – you select each of the interfaces as needed. Our favorite was the Classic Toolbars set – the tools that we used often were right there on the panel, for much easier access than in the Ribbon UI. There is also a search-box: if you know the name of the tool, you can type it and it will appear right away in the search results, ready to be accessed. Any of the feature names you can read about in this review article can be searched and found in the search box.

The sections of the Toolbars can be edited – you can even add buttons for functions that you use most often. Our particular case was that we needed to export PDF pages as images – and, in this context, we right-clicked on the toolbar, went to the "Customize Toolbars" menu, and then went into the commands tab – there we searched for the "Export to Image(s)" command and then we dragged and dropped the icon on the Toolbars.
If you are an organized person and you use a specific set or multiple sets of PDFs, with PDF-XChange Editor Plus you can organize them into sessions – the app will open a set of documents at the same time – all of them being available in tabs. The best part is that the application remembers which documents you had opened and also the page for each document which you last worked on. Due to this, if you have organized your workflow on separate sessions, as an example, one session for work with 20 documents, one for home and bills of 10 documents, one for personal production of content of 14 documents, you can open the session that suits best your needs, without having to worry that you won't remember exactly where you stopped.
Another feature that shows the maturity of this application is the export and import of settings which can serve in multiple ways – you either want all computers in your company to have the same settings for this software, or you could import settings and continue from where you stopped even after a Windows OS reinstall. In this instance, the sessions list is also included in the exported settings file so that you can get back on track as fast as possible. Just make sure you export the settings to a file from time to time so that you can get back to the latest settings and sessions you were working on before a possible OS problem or transfer to a new computer. Note that the feature of sessions of opened PDFs works on your computer or on a different computer only if the PDFs from the sessions are in the same folder structure – for example – if on your old computer you have all your PDFs on the D partition, in a folder named "Documents" – in case of a transfer to a new computer, you would need the same files, in their original folders, placed on the D partition of the new computer, in their "Documents" folder.
There is a comprehensive list of operations you can perform to modify the aspect and size of a document. Of course, the keyboard shortcut Ctrl+Z helps you out if you need to undo any modification. You can add/edit headers, footers, add watermarks, add a background, insert, extract replace, rotate or delete pages and you can also convert the document color types. There are even options to resize, crop, duplicate, merge and rasterize pages (once you finished editing them). You can enhance, deskew and OCR scanned pages. PDF-XChange Editor Plus can also be used as an app for scanners – it works with its own or the native scanner driver interface and you can apply any of the options mentioned here after you scan your pages to improve the quality of your document. We tested the Enhanced OCR feature on a scanned page with a sample text in English and a page with text in Romanian. On the English text, there were no problems – the text and characters were all appropriately recognized, while in the case of Romanian text – it had an accuracy of 90% – some diacritics (letters with specific glyphs) were not immediately recognized – such "shady" characters are always a source of issues for OCR software in general. We got inferior results with other OCR software apps, so the Enhanced OCR does pretty well for a plugin when compared to dedicated apps. In such cases, if you wish to obtain an editable text, you may need to check the text for small errors that could appear due to special characters.
If there are parts of your document that you wish to hide, you can use the redaction feature to select the parts you wish to hide and then hit the apply button to hide the selected areas into black squares.
Combining all kinds of documents, PDFs, Word, PowerPoint, Excel, image files (and many other printable files) makes it easy to have all documents and reports of a project into a single PDF. As far as we tested, the default setting is to keep the images and graphical items in quality as high as possible (300DPI) – that may result in a higher file size PDF, but then you also have the option to save the file as an optimized PDF, and you are given the option to select which elements can be compressed and reduced in size in order to get a smaller version of your PDF document that will be easier to send through email services that are notoriously limited when it comes to the maximum file size of the attachment.

Digitally signing your documents is a feature that companies and various institutions may be very interested in – there are options to use certificates (Digital IDs) on official documents. You can also create fillable forms – if you access the Ribbon UI menu – in the Form tab – with the option to fill a box with text, make a selection, like a radio button, add a button, a checkbox, or an image to name a few of the input formats. If you have a document that needs approval, you also have the feature to use the stamp button – and there you have a few texts to choose from. There are also options for securing your PDF documents, with a 256-bit AES encryption level, you can restrict viewing, editing, and printing with a well-chosen password. And, if you wish to add a layer of protection, you can also add a watermark on every single page of your document, so that nobody else could claim ownership.

Here is another use case. This is for teachers who have to work during the pandemic with digital tools to enhance the quality of their work. As a teacher, during Zoom meetings with your students, you can share the window of PDF-XChange Editor Plus and make live annotations, comments, callouts, sticky notes which can be saved at the end of the PDF page you are presenting. The page can be extracted from the document and then sent to all students so that it would be easier for them to open it later and go over what was discussed during class again.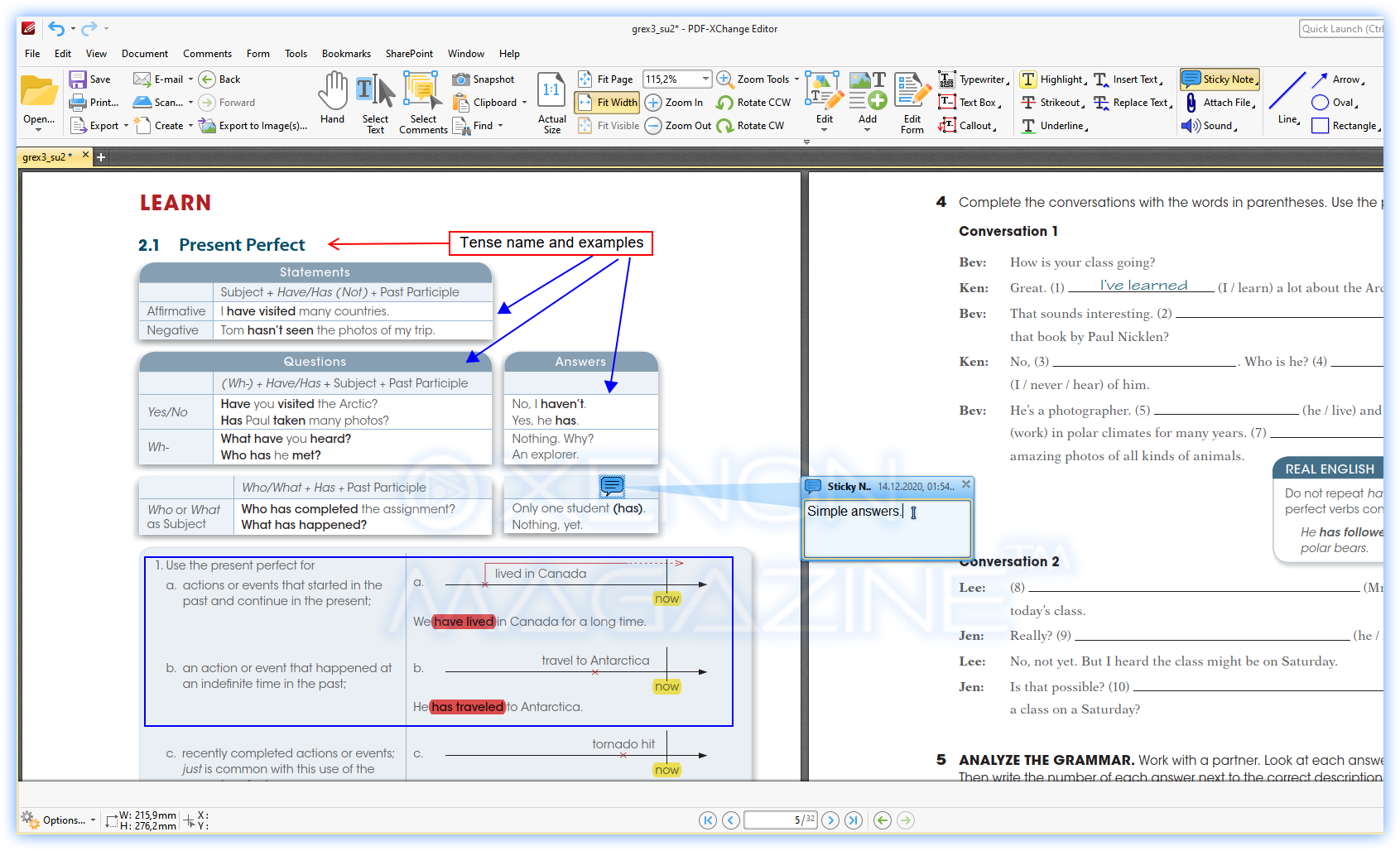 Teachers can also work with the PDF versions of the textbooks they use during lessons while they teach from home in live meetings on Zoom (or any other platform that allows screen and window sharing for presentation purposes). Text matching exercises can be solved based on student input with the arrow annotation. If there's a text piece on which the teacher wants the students to focus on, the rectangle annotation can be used to surround it. For the very same purpose, if you have a sentence or group of words on which the students need to focus on, you should obviously use the highlight tool. These annotation tools can be customized if you right-click and go to their properties.
The PDF Tools application, which is also included in the package, is a dedicated collection of batch processing commands, all 70 of them neatly arranged, in one big category – "All Tools" – or into more specialized sections. You just select the tool you need, add the files or folders to be processed and then you will be prompted to save the processed PDF. The included Office2PDF application has a similar purpose – batch conversion for Microsoft Office documents into PDFs.

PDF-XChange PRO is a well rounded and powerful package that turns your computer into a specialized PDF machine, ready to tackle anything related to PDF document processing you may throw at it. You can certainly have it as your only PDF viewing, editing, and publishing application on your computer – you will not need any other. There is one thing the developers could improve: they should introduce the usage of themes, specifically a dark theme for all the bundled apps – just to be in line with the dark mode fashion started by Windows 10.

You can buy the current version, 8.0.343.0, for $108.45 (with the Enhanced OCR) and get access to updates and new versions for one year. Other similar apps, created by other companies, offer fewer features for higher prices. In order to keep access to the latest version, you can extend your maintenance access for as little as $27.12 for one year, or you can go for the $40.67 two year maintenance plan. There are big discounts for charity and academic users – there is a form you can fill in a PDF file from the official site and you will be contacted.

PDF-XChange Editor (simple, not the Plus version) can work in free mode as well, with the premium features disabled – you can go to the Help/Enter license key menu – and there you can tick the option to hide all licensed features from toolbars and menus. It comes with the PDF-XChange Lite virtual printer, therefore you will be able to perform decent PDF processing tasks. If you wish to see the features that are available in all Tracker Software products, check the comparison chart, and make an informed choice – https://www.tracker-software.com/pdf-xchange-products-comparison-chart.