As far as watching films on DVD on a PC goes back in PC multimedia history, PowerDVD has had a special place: it has always been the go-to player for original (genuine) video media content. It has had a rather interesting evolution and in its new version it can offer playback for most of the legit audio-video formats out there. As soon as you start it up, it offers a choice between PC and TV mode – depending on the screen you are going to use it on, you can choose what you wish. The TV mode is a rather simplistic interface, well suited to simulate a physical media player, with USB ports attached to the TV, not very friendly towards specialists who change settings quite often. The PC mode is a choice for media geeks who wish to customize certain settings, apply some visual effects or set a specific number of audio channels (maximum 7.1 – 8 channels).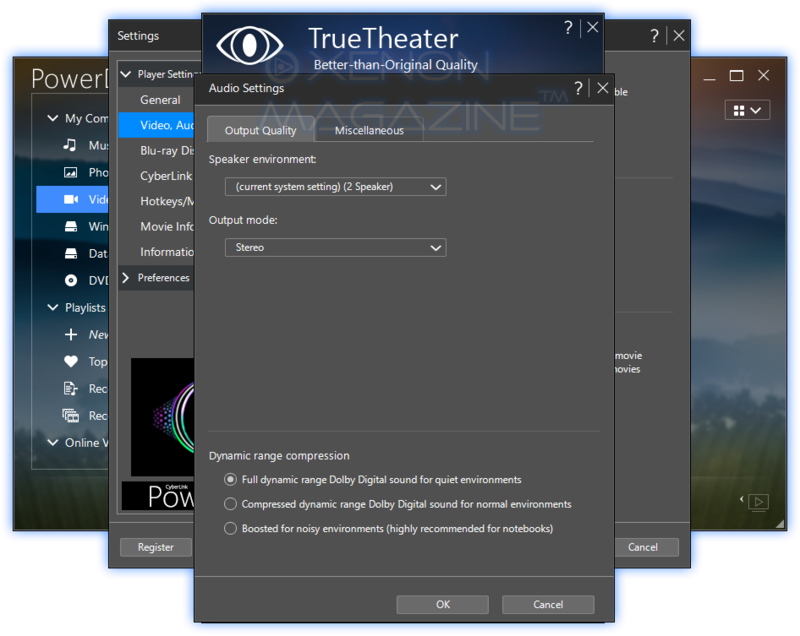 There are some extra features that you can enjoy – you can set up additional settings, Blu-ray options – like subtitle default language and region (warning – this may limit your physical disc drive to a specific region!). PowerDVD uses the new video cards that have HD and Ultra HD decoding capabilities – so the new PC owners will enjoy watching the latest videos or films in high quality, without sacrificing PC performance, with smooth playback and amazing clarity. There are PC owners with multiple video cards – an option to choose which card must be used for video decoding would have been useful: many notebook owners have typically an Intel and an NVidia video card. PowerDVD defaults to using the Intel video card for decoding video – which is not bad, but NVidia's decoder has been under development for a longer time. You can also access some online videos from YouTube, you can playback media from your local drives. There is one thing we need to mention here: PowerDVD does not allow you to make screenshots of the media content while playing a DVD or Blu-ray disc – it may be a copyright protection feature, but this is what prevented us from showing you more images with the player in action.
One thing that we really admired about this legendary and long standing player is that now you also have the option to control the player with a remote app, if you have a smartphone with Android or iOS – which makes PowerDVD a great tool if you plan to rent a few movies and have a cinema night, with the traditional popcorn or whatever you enjoy nibbling while watching films. Yes, you might require a big screen HDTV to enjoy HD and Ultra HD content (over an HDMI connection), but that depends on everyone's preference and pocket. We also liked the correct mapping of sound channels in a 7.1 audio speakers setup.
So there you have it, the best legit content media player out there.
You can go to the official website and
purchase it for $68
– and it comes with additional apps made by CyberLink.